Immigrate To Canada As A Doctor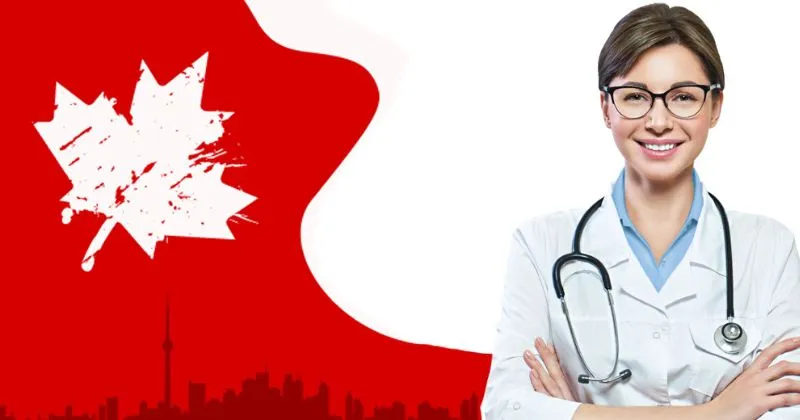 Immigrate To Canada As A Doctor
Canada needs more of doctors and you could be one of them
Everyone needs a doctor for medical help same way you need us for immigration help. Yes, we can assist you to immigrate to Canada as a doctor, as shortage in Canada's healthcare system has become a stark reality in the previous sixteen months.
Canada needs more physicians, nurses, and other healthcare professionals now—possibly more than ever. Therefore, if you're a doctor and want to go to Canada, this is the best time.
Whether you've just finished your medical training abroad or have years of expertise under your belt, moving to Canada can open up a world of possibilities. In this blog, we look at immigration programs you can use to immigrate to Canada as a doctor, and in-demand positions for doctors and surgeons there.
Canada Pr For Indian As A Doctor In 2023
One of the best nations where there is consistently significant demand for medical professionals is Canada. To immigrate to Canada as a doctor, there are more than 60 immigration programs available in Canada.
Under the express entrance program, all FSWP, FSTP, and CEC applications are handled. However, the applicant must submit an application through the Federal Skilled Worker Program (FSWP) if they wish to immigrate to Canada and work as a doctor.
One of the programs for economic skilled immigration is the Federal Skilled Worker Program (FSWP). The Federal Skilled Trades Program (FSTP) and the Canadian Experience Class (CEC) are the other.
Canada Express Entry For Medical Doctors
For those who want to immigrate to Canada as a doctor, the Express Entry system, which is designed for skilled workers, is a very good option.
The program oversees the management of all applications from the key economic programs.
Physicians who fit the criteria could submit an application through the Federal Skilled Worker Program.
Your profile receives ratings when you submit your application based on factors including your age, career history, and educational background. The top candidates are invited to submit a permanent residency application.
How To Find Medical Job In Canada?
Thanks to the technology in our world today, it has made easier to find job whether you live in Canada or somewhere else.
Although many people still use LinkedIn to network and submit job applications. The following job sites are some that are suggested exclusively for medical professionals:
Healthcare Jobs
Jobs Canadian Association of Community
Canada jobs
Various job platforms, like Monster and Workopolis, feature sections specifically for the healthcare industry. Be well-prepared for every job and interview to give you a competitive edge.
As well as making sure your credentials, references, and certificates are on hand, make sure your resume and cover letter follow the Canadian format.
Top Jobs In Canada In Health Sector
Family doctors and general practitioners
Professional positions in the health sector (excluding nursing)
Certified Nurses
Pharmacist
Licensed Practical Nurse
Psychologist
How can Sernexuss help you?
If you are not aware of the procedure and eligibility criteria, getting permanent residence in Canada may be challenging. You can contact with Sernexuss, the best visa and immigration consulting firm in India. We have a proven track record of assisting Canadian PR applicants and assisting them in obtaining Canadian permanent residence status.
Our team of visa and immigration advisors has years of experience and is skilled in handling a wide range of immigration situations, so they know how to handle any circumstance. We make sure to work with you to create a file that is free of errors, which increases the likelihood that the IRCC will grant your request for a visa.
Migrate to Canada as a doctor now with Sernexuss!!
 FAQ's asked by clients
Are Doctors Eligible For Express Entry?
Yes. For a limited number of qualified skilled professionals, Express Entry offers a streamlined route to permanent residency. Doctors and other specialized physicians can use the Express Entry system through the FSWP because their NOC code falls under the Teaching, Education, Experience, and Responsibilities (TEER) 0 and 1 categories.
What Are The Requirements To Migrate As A Doctor?
You must already hold a valid medical license in your native country in order to move to Canada as a doctor. Additionally, you must show that your qualifications are on par with those of a doctor who is already qualified and employed in Canada in order to immigrate to Canada as a doctor.
Steps To Apply For Medical Job In Canada
Verify that your profile complies with the requirements of the TEER code.
Check your FSWP and PNP eligibility points.
Complete the Medical Council of Canada (MCC) assessment of your educational credentials.
Participate in the IELTS test.
Making an Express Entry application and receiving a government of Canada invitation to apply
Confirmation of Permanent Residency after submitting the relevant documents.
Read our latest blog on how to apply for Germany job seeker visa from India, to get your dream job in Germany with Sernexuss Immigration.