How To Apply For Germany Job Seeker Visa From India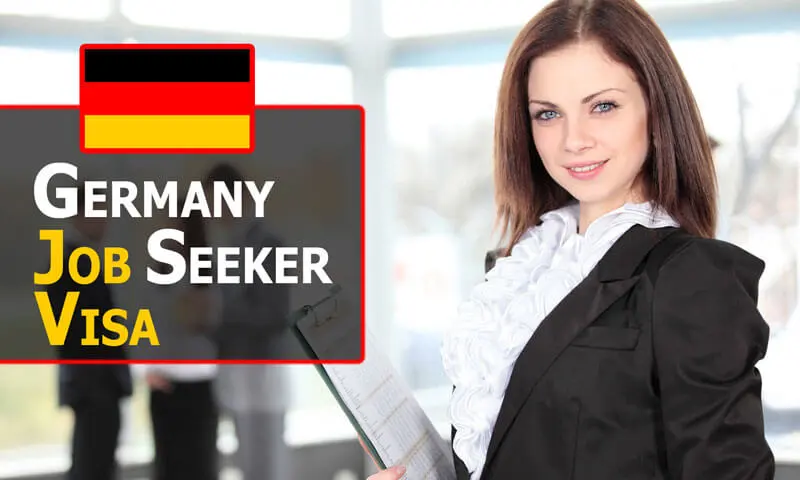 Germany Job Seeker Visa From India
Did your Germany job seeker visa get REJECTED? As we know, many foreign people apply for Germany job seeker visa from India to travel to Germany in search of jobs because the country's job market is highly respected internationally and unemployment is on the decline there. It is feasible to get employment and settle in Germany, but there are basic steps that must be taken to avoid rejection.
You can enter Germany with a job seeker visa if you're interested in working there. The Germany job seeker visa from India enables people to stay in Germany for a predetermined amount of time while they look for work. However, not everyone requires this kind of visa in order to look for work in Germany. In little time at all, you will learn more information.
Why To Apply For Germany Job Seeker Visa?
For both foreign-trained professionals and German citizens, Germany is a land of opportunity. The homeland of invention and innovation is home to some of the most well-known businesses and organizations in the world. Germany is renowned for its automobile sector in particular. As a result, it makes it possible for numerous immigrants to live and work in Germany.
The Germany job seeker visa enables suitably qualified foreigners to live and work in Germany. With the option to extend the visa and then apply for an EU Blue Card or other sorts of residence permits, it enables the immigrant to enter Germany and work there for up to two years.
Types Of Work Permit In Germany
Long-term employment visas are available in Germany, allowing applicants to stay there for longer periods of time. Following are the categories for Germany work visas.
Candidates having a job offer in Germany are eligible for a Germany employment visa.
Germany Self-Employment Visa – For Applicants who want to open a business or work as a freelancer in Germany.
Germany Candidates who desire to look for work while in Germany are eligible for a jobseeker visa.
Young applicants who want to learn more about German culture and language might consider working as an au pair in Germany.
Germany Young applicants from any nation that has a working holiday visa agreement with Germany are eligible for a working holiday visa.
Eligibility Criteria For Germany Job Seeker Visa
To be eligible to apply for a Germany job seeker visa, candidates must fulfil the following requirements:
Age- to apply for Germany job seeker visa from India, you must be at least 18 years old.
Education- You must hold a Bachelor's or Master's degree from a German university, or a foreign degree that is equivalent.
Experience- for the Germany job seeker visa, you must have at least 5 years of work experience.
Sufficient funds- You must demonstrate your ability to pay for your costs throughout your stay in Germany.
Document Checklist For Germany Job Seeker Visa
You must provide the German embassy or consulate in your area with a number of documents to demonstrate your eligibility for an employment visa. These papers are crucial parts of your application for a German work visa, together with the visa interview. Verify that you have gathered each of these documents in accordance with their directions.
Two properly filled-out, printed, and signed application forms.
National identification card and two passport pictures.
A driver's license or a utility bill in your name serves as proof of residence.
health and travel insurance
An employment contract or binding work offer from a registered employer in Germany comprises the gross annual salary and a thorough job description.
You're most recent qualifications, which include information about your educational background, career history, and employment history.
Evidence of Eligibility Certificates, grade reports, and other documents that serve as proof
Cover letter describing the purpose and length of the visit.
Evidence of a spotless criminal record.
Receipt for the visa fee payment
Processing Time For Germany Job Seeker Visa
A long-stay work visa in Germany may take five to six months to process from the time of application. The length of time it takes to process your application depends on both your circumstances and the volume of applications the embassy is currently receiving.
Conclusion
Counsellors can assist you with the job hunt by publishing your resume online, setting up interviews, and assisting with the visa application. If an in-person interview is required, you must travel with a job seeker visa.
Sernexuss can help you increase your success rate for a Germany job seeker visa from India by making this process simple and straight-forward. If Sernexuss can't get your job visa, then no one can. You really don't need to worry when Sernexuss is helping you, and you can rely on our experts like other clients did and get their Germany job seeker visa from India.
Read our latest blog on Get Canada PR without IELTS and connect with our experts for the best guidance.