Top 7 Reasons to apply for Australia PR visa In 2023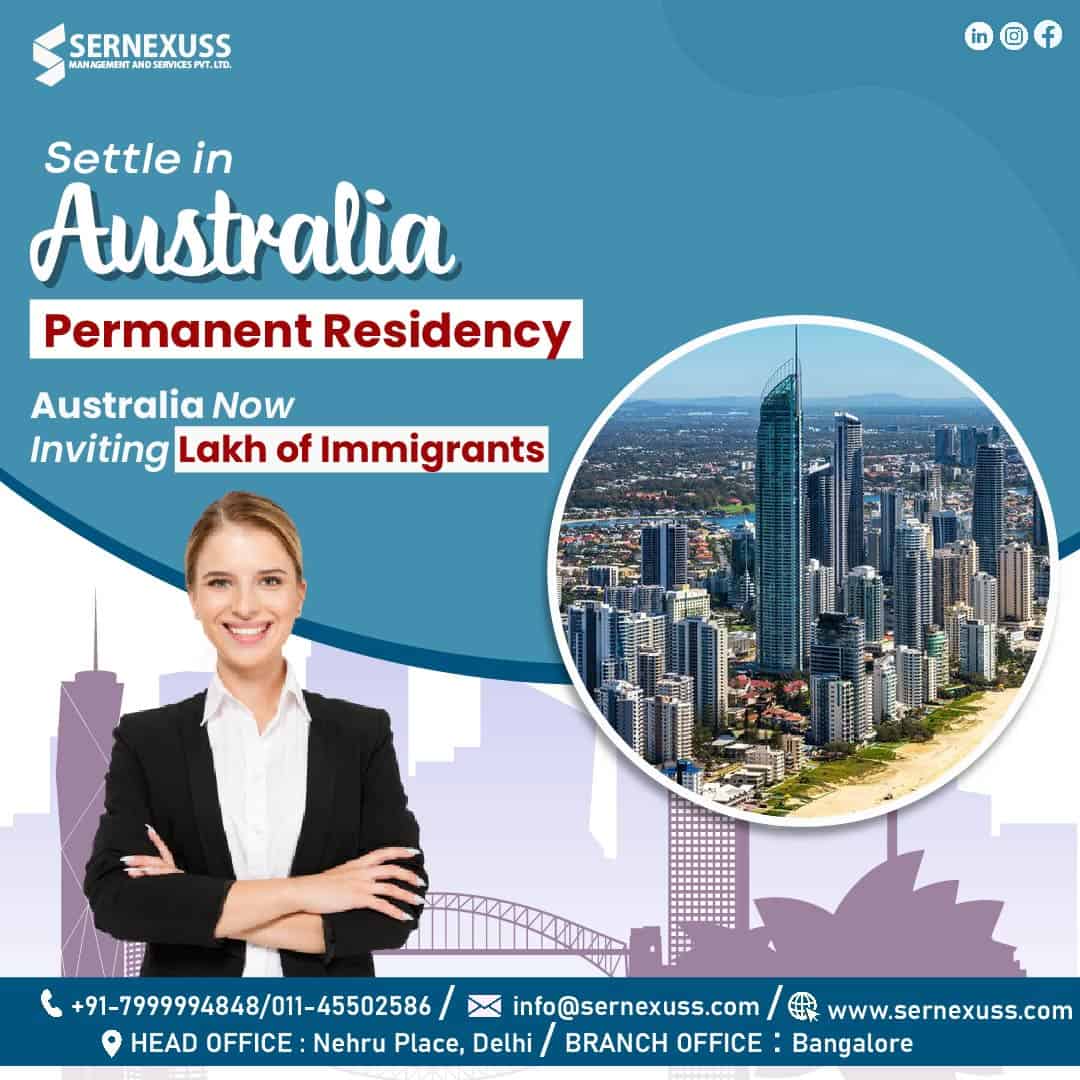 Top 7 Reasons to apply for Australia PR visa In 2023
Australia PR visa enables brilliant and skilled individuals to live, work, and settle permanently in Australia. We will provide you top 7 reasons to apply for Australia PR visa in 2023. If you have had an Australia Permanent Resident visa for at least 4 years, this visa offers you the opportunity to apply for Australian citizenship.
Why to apply for Australia PR visa?
Eighth-happiest nation in the world inviting 500,000 migrants by 2024
Offering 800,000 skilled professional job openings
Make 5 to 8 times more money than you do now
Universal Healthcare System Access
Children's Education is FREE
Pension Benefits
Easiest route to citizenship in Australia
Don't allow immigration to become a barrier to your success when you are with Sernexuss; apply for an Australia PR visa today.
Benefits for Australia PR visa
There are many advantages of getting Australia PR visa, these are the top 7 reasons to apply for Australia PR visa:
Reside in Australia
You are permitted to move freely around the country if you have a permanent visa. You are free to remain inside the country, even if your visa has expired but you are not allowed to leave.
Social Security benefits
A master plan from the Australian Department of Social Security provides social welfare aid for students, illnesses, and unemployment after two years of lawful residency in Australia. This aid can be extended to include your family as well.
Eligible to apply for Australian citizenship
If you have lived in Australia legally for at least 4 years and have called it your permanent home for at least 12 months, you may be eligible to apply for citizenship if you obtained permanent residency after 1 July 2007.
Healthcare benefits
Residents have a right to healthcare. As a permanent resident of Australia, you have access to free government-run health insurance programs called "Medicare."
Outstanding Education System
Australia as a nation boasts top-notch educational facilities and renowned universities. You are entitled to family benefits like paid parental leave, baby payments, and family tax breaks.
Purchase Residential Real Estate
Only people who live there permanently are typically allowed to buy occupied homes. This strategy has been implemented in order to safeguard the economy against an invasion of foreign cash that would buy up entire neighborhoods and push local residents into the outskirts.
Childcare Tax Credits
An income-tested benefit known as Child Care Benefit (CCB) helps eligible parents with the expense of child care. Along with helping parents with child care expenses, the Child Care Benefit (CCB) intends to encourage parents with low and intermediate incomes to participate in the labour and community and to "balance work and family commitments.
Why to migrate to Australia?
It is a wealthy nation with a service-based economy that depends heavily on exporting goods, and its GDP is rather high. The Australia is a part of the United Nations, the Group of Twenty, the World Trade Organization, the Organization for Economic Co-operation and Development, and the United Nations Association for Economic Cooperation in Asia.
Need help?
We at Sernexuss are committed to assist you with all your queries related to immigration. Sernexuss aims to become the first choice for people wishing to migrate overseas for study, work, business, or travel.
Being our client, you don't need to worry about how you'll reside in the native country. You can contact our specialists at any moment for assistance in an emergency. From the beginning until you settled in your desired location, we would personally help you, guide you, and assist you to fulfil your immigration desires.
Contact Sernexuss to get your Australia PR now!